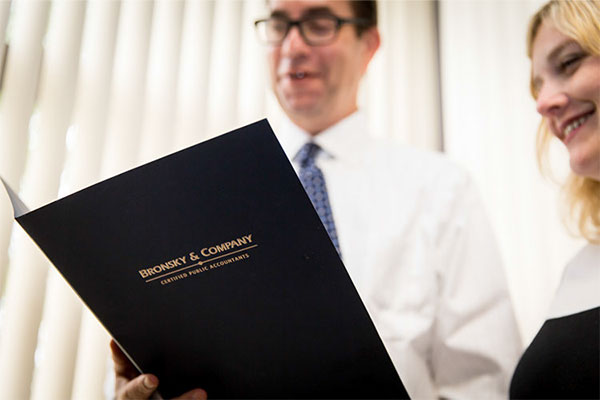 We pride ourselves on our commitment to quality and our ability to communicate with our clients. The same is true when we make hiring decisions. We are always looking for talented, energetic, and insightful professionals to join our team. We come from all different accounting and lifestyle backgrounds, and it adds to the richness of our firm.  If you are interested in learning more about our firm and the opportunities we may have for you, please contact us.
Positions Currently Available
Tax Season Intern
We are seeking a 4th or 5th year accounting major for a paid internship position for tax season and potentially beyond April. The job entails preparation of personal and corporate income tax returns, review of client data and preparation of adjusting journal entries as required, assistance in the preparation of financial statements, and light administrative duties including copying and scanning documents and filing. The Internship pays $15/hour and we are seeking someone for 10-20 hours a week. The applicant should have completed an Income Tax course as well as Intermediate Accounting. The applicant must be proficient in Excel and willing to work in a small office environment.
Part-Time Tax Preparer
We are currently seeking an experienced Tax Preparer to be part of our 2020 tax season for 20-25 hours per week. This is a seasonal opportunity located in our Williamsville office. Hours are flexible between 8 am and 8 pm Monday-Friday; weekend hours are also available.
Job responsibilities include but are not limited to:
Prepare tax returns for a variety of clients from individual to partnership to corporations.
Analyze and evaluate complex tax situations.
Apply an understanding of current tax trends to each project.
Perform multiple tasks timely.
Required qualifications:
4+ years' experience in tax preparation
Excellent time management skills
Proficient in Microsoft Excel and Word
Computer proficiency
Exceptional customer service and communication (written and verbal) skills
Familiarity with ProSeries or other tax preparation software (not including TurboTax)

Full-Time ABL Field Examiner
Field Examiners ensure that borrowers' financial records represent sound accounting procedures, explain company policies and assist in the implementation of collateral controls. Our firm is located in Williamsville, NY; the Examiner will be assigned to both local and out-of-town projects throughout the United States and Canada.
The scope of the assignments includes:
Testing the integrity of accounts receivable and inventory
Analyzing key performance indicators and trends for accounts receivable, inventory, and accounts payable
Evaluating the borrower's billing, collection, and perpetual inventory systems
Performing detailed analysis of the general ledger
Testing receipts, disbursements and reconciliations
Candidates must hold, or will attain by December 2019, a BS in Accounting or Finance and 0-5 years of ABL field examination experience. CPA or CFE credentials are preferred, but not required. Additionally, the candidates must possess the following competencies:
Excellent analytical skills and knowledge of accounting principles
Excellent professional report writing skills
Effective oral communication skills with bank personnel, borrower's management and executives, and other field examiners
Ability to work independently as well as in a team environment alongside other field examiners
Ability to follow directives and meet deadlines